Well, we're very very close to the release of ImpressCMS 1.3 RC - and then of course, ImpressCMS 1.3 Final... so what's next, while we work towards 1.4?
My thoughts are that while we are working towards the goal of 1.4 final - that we have a set of smaller releases with only a few key areas updated .. these updates would contain both Core and Module updates.

This would also give us an opportunity to update libraries etc.. and to show users and developers alike ongoing development- instead of waiting the very long period in between major releases.

By considering a combination of core and modules in each release, this will allow any developers who wish to supplement the core features with modules, and opportunity to do so. Suitable features can later be added as core features on later core releases.

The idea is that each "1.3.x" release would be on-going development - while the work on the 1.4 release is underway.
As you can see, each release includes either new module(s), or updated one(s)..  the target being that when we have reached 1.4 - our distribrution will be in 3 "Flavours":
Core Only, Core + Standard Modules Selection, Core + Modules + Extras
BTW: I'll repeat this again - this is purely some ideas from me - although some others have contributed with them (Which I thank.. and sorry if I missed your name!) If you don't agree - that's ok ... but please offer alternative ideas :)

------------
ImpressCMS 1.3.2 Suggestions
Core:
Adding the "defacer" functions to symlinks #1

Imageset selection (and re-organisation of images, plus inclusion of crystal_clear) see: http://community.impresscms.org/mod ... ic_id=4783

Improvements to modules admin to include "help" links throughout module

Inclusion of "cache cleaner" option to menu (to clean template_c, cache, and any other future caches)

Move most geshi plugins to the "extras" folder - so they can be

installed only if needed...

Make "extras" folder a separate download - keeping overall download size smaller

Investigate module data-processing cache 
Modules:
ImBlogging & ImTagging module .. or Impression - to provide multipage content / blogging features from installation


Banners Module - from Pheonyx - to replace the depreciated core feature

Contact Module

#1 (defacer is a module from Trabis based upon the Symlinks function. It has some very useful additional features: eg: being able to set separate meta tags and being able to change theme at different links... Trabis has stated that he had no issues with it being Incorporated into the core function.
ImpressCMS 1.3.4 Suggestions

Core:
Module Version Checker - checking against "official" XML for latest stable releases

Library Version Checker- checking against "official" XML for latest stable releases

Editor Version Checker- checking against "official" XML for latest stable releases

Theme Admin : installer area, similar to modules, also including a header file ("icms_version"). This header file would contain designer info, site, license, etc (inspired by xoopscube & suggested by Erol).
Possible suggestion for header file: Could perhaps

also install custom-tags as used by the theme,

Possible upload by admin panel of themes? (david)

Investigate global Installer area to replace theme, module, etc management (feature suggested by Mekdrop)- see below "Modules":
Modules:
Tagging module  and Category-Management Module #2

Gallery Module - currently under development from Rodrigo

Menu Management Module - either a light-weight version of "Main_Menu" (Mekdrop) or using a feature of the "Sprocket"#2 module (Madfish)

#2 One suggested tagging/category system is a planned new module from Madfish : "Sprocket" - a utility for shared/reusable module components that would provide, amongst other features, centralised rights, tag, category and permalink management systems - in the form of a module. These are course features that could be moved to the core at a later date, if there were sufficient interest in their adoption.
Module/Theme/Plugin Management - suggestion for 1.34 Admin:

After seeing some recent images of the new Android Market area (see below), the design is very similar to how any combined management area could possibly look....

Very top area - site or project logo, impress admin navigation etc
Top tabs (below logo) = themes / modules / editors / library

Left colum - replace with rss feed of new/updated modules, themes etc - and also any urgent update news

Top right of column - installed module / theme / etc

Right middle - information on selected item

Right bottom - not currently installed module/theme / whatever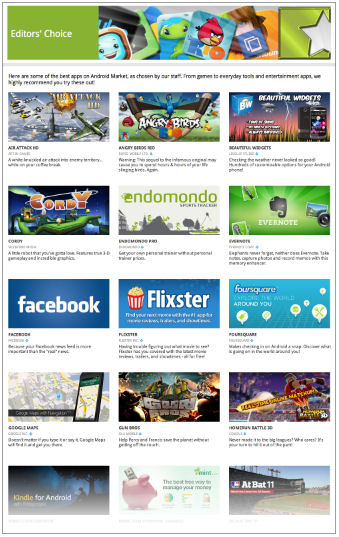 Seeing the Design of the Android Editors Choice panel, this suggested a few ideas as well... for a page which reads content powered from the Addons site, to display new downloads available-


















ImpressCMS 1.3.6 Suggestions
Core:
Imcontrols - currently under development by Mekdrop


Further work on

admin jquery based updates - perhaps also based on Incama's recent suggestions

Consolidating icms_version code (Header files used throughout the core in many places, currently needing several methods to read and manipulate)

Clone module option: currently possible on selected modules, this could be possible by using "clone.php" from SmartSection

Comment Manager improvements

Menu:
News module (Planned development from Madfish)

Poll Module - either an enhanced version of the current, or a possible IPF based one

FAQ module (imFAQ from Rodrigo, which just requires testing)
To close....
These are a few ideas that I've discussed over several weeks with a number of users and developers alike. While I can envision that 1.4 Final will have extensive work .. perhaps including the target aim of removing a majority of core legacy code, optimising the admin area to fully be templateable and to use IPF code, and so on ... I feel that the next few smaller-step releases should be used to address areas we've missed during the extensive core updates of 1.3 - and in preparation towards 1.4... but at the same time allow us to prepare more required modules for our users.
It would be good to hear from others for any suggestions they have as well - so please post below - or on the Development Discussions forum.